May 2020
Now we can start to fill the holes in the shell back up...
Ooo, pressies - that'll be a full floor then !
Somehow I thought this renovation may need quite a bit of gas, so a new cylinder and regulator plus 10m of delivery hose were on the shopping list.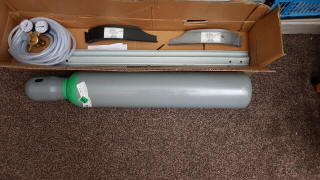 The first round of metal supplies.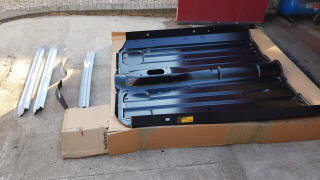 More trimming ready for a test fit of the floor.
With the floor in place on jacks the fit isn't too bad, but there's still a bit more fettling to get it in snug.
Fettling done, heelboard welded to the floor and all jacked into place. Subframe alignment checked, seat belt bolts tightened to keep things still, then all welded in place.
The front edge and cage feet are just tack welded in place at the moment as more panel work is needed at the front end.
The shell stand has been moved forward under the new floot to allow the last crusty bits of original boot floor by the arches to be cut out.
Time for cardboard templating !
Snug fit.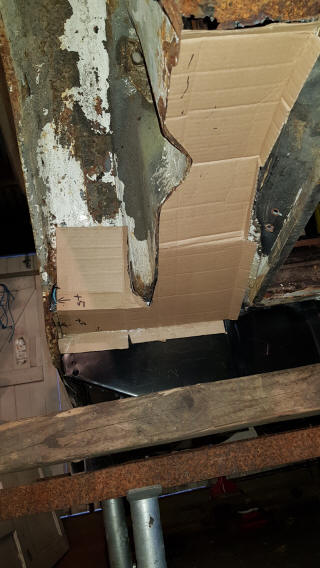 Now to transfer from cardboard templates to new shiny 1.5mm steel.
Cut out bits.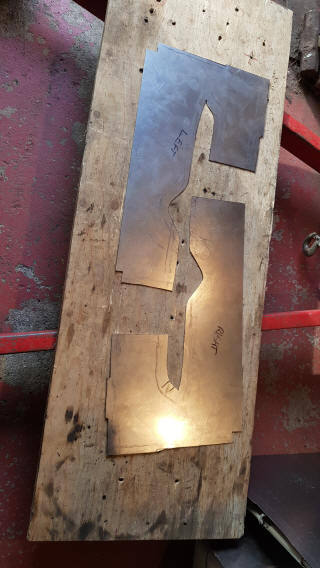 Bend to shape, jack into place then add hot glue from the mig.
Quick bit of paint and that's the boot floor mostly done!