October 2020
And so, onto the scuttle panel.
But, before that it's probably sensible to sort out anything else that will impact the paintwork up front...
First the fresh air intake. Bung in the end plate, weld it up, then add the required holes.
Then onto the discrete 3mm reinforced inner wing bits. These will be where the subframe brace bars tie in and may provide a solid mount for some alternative bonnet hinges. If not, they can just be trimmed down to size later!
Now onto the job in hand, removing the old scuttle. And, while chopping, it seems rude not to remove the the round bulkhead 'hole' too.
Quick and dirty repair panels for the screen surround that don't need to be too pretty as they will end up completely inside the scuttle area.
Not too shabby after a quick blast of primer.
On with the scuttle closing panels and in with a plate to close off the bulkhead.
Filling and sanding.
Getting there with the primer...
Plug welding the scuttle was a bit repetative with each weld needing a clamp either side, but wasn't too tedious :)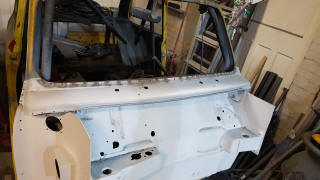 More filling and sanding, then primer and sanding...
On goes the yellow, with a little heat from the halogen between coats.

I guess I can look at popping the subframe on soon !