December 2020
With Doris on her wheels again I thought it could be good to look at how seats would work.
Ebay threw up lots of potential options, but in the end a pair of MR2 Roadster seats were chosen as the ideal candidate.
After much measuring and thinking and measuring, I set to work chopping bits out of the new crossmember.
Then welding them back in again, but lower.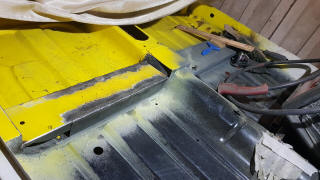 Reinforcing bars added and M8 threaded insert ready to go in.
Trial fit, all seems good!