Devcon aluminium epoxy in action again, this time used to build up a flat shoulder that was drilled for the injector and sealing ring. Untidy at the moment, but will shaped nicely with the die grinder at some point (honest).

The fuel rail needs to be altered a bit to get it lower, but it is fine for testing. Likewise the loom will get a bit of a nip & tuck to tidy it up a bit.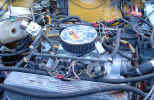 Bad Spag, look , the injector holes in the throttle body have not been plugged and the cooling system is in bits ! Pluss, I don't think that a filter from a HIF44 is really going to flow enough now is it ?

If we kind of ignore the details for a bit, and look at the bigger picture, I think that the bonnet bulge will be able to be removed.

Anyway, it works :-)
See the video of the new sucky noises 4barrel_efi1.avi (1250kb)