Found an interesting small ad on 23/01/04 and ended up spending £290 a toy for the Pievan the next day. Yes I know the van is a long way off, but there's no harm in collecting fun parts, now is there :-)
What it looked like in the ad

What they look like in their natural environment.

What it looks like in my kitchen
What they look like on another shiny engine.

Eeeek! exploded.

What Eaton say about it http://automotive.eaton.com/product/engine_controls/M112.html

.....

Investigating the airflow using an electric drill and the trusty smoke machine :-)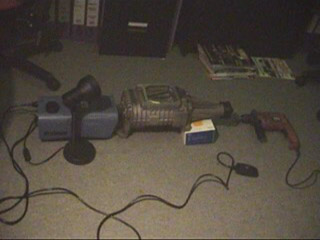 Or a couple of DivXed Vids...
Smoke1 430kb avi & Smoke2 604kb avi
Seems that the airflow is really heavily biased towards the front, so fitting directly to a manifold doesn't look too sensible. I think some pipe work & a plenum should even things out a bit !